▊ FoodCycler FC-30 - The Ultimate Food Waste Solution
A Machine to Improve your Daily Kitchen Life
With every FoodCycler FC-30 purchased, includes:
▶ FoodCycler FC-30 x1
▶ 2.5L Bucket x1
▶ Carbon Filter (2 Cylinder) x1
▶ FREE! Carbon Filter Refill (2 Packs) x1

Every purchase comes with 12 months official warranty.
▊ The Best Food Waste Solution
6 Best Features, make FoodCycler FC-30 the best Food Waste Cleaner in Malaysia 🇲🇾
Malaysia is a beautiful country where variety of delicious foods come together.
However, we often find ourselves having trouble dealing with food waste. What is the reason? We wonder. 🤔️

Maybe, it's just that we haven't find the answer. Introducing FoodCycler FC-30, the Most Efficient Food Waste Machine.
Here we are ready to make a change!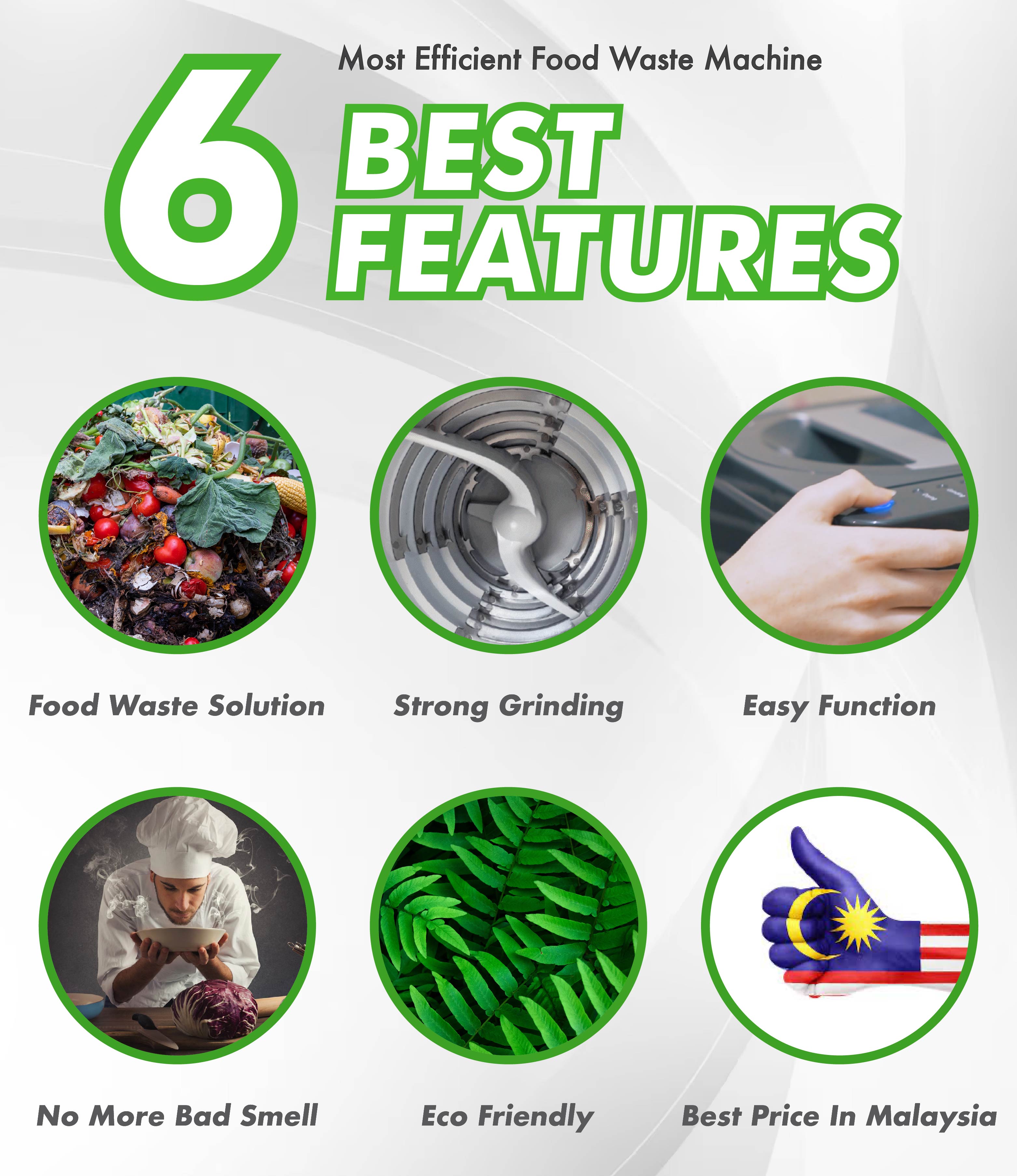 ▊ FoodCycler FC-30 - Your Ultimate Food Waste Solution
One button design, It cleans fast, reduces much
✔ Easy food waste cleaning
✔ One button to start
✔ Reduce 90% waste
✔ 2.5L capacity family size
✔ Best quality 12 months warranty
✔ Cheapest price in Malaysia
✔ Compost vege, rice, meat, chicken bones . . . and more!
With FoodCycler, your food waste volume can reduces up to 90%
▊Introducing FoodCycler
The Best Food Waste cleaning solution for Malaysian
FoodCycler is manufactured by Food Cycler Science. A team of food waste experts all the way from Canada.
In 2023, FoodCycler's classic model FC-30 is proudly introduced by MYFEEL into Malaysia.
With this revolutionary machine, we believe that it can helps Malaysian to find the best solution for food waste cleaning, once and for all.
▊ Remove Bad Smell From Your Kitchen
The Carbon Filter, the secret to keep your Kitchen in best condition
The RF-35 Carbon Filters comes in two cylinders design.
It is designed to be compatible with FoodCycler FC-30, effectively deodorizing the process and ensuring a cycle without odors.
It not only reduces unnecessary food waste, but also maintains effective deodorization.

One set of Carbon Filter can last for 12 months in general, while if the machine is stored in a dry place, it can lasts longer!
▊This is how FoodCycler FC-30 works
More than reducing waste, it builds friendly environment
FoodCycler FC-30 helps reduce 90% of food waste, and its 2.5L bucket capacity is the perfect size for family usage.
This powerful FoodCycler machine, not only comes with compact designs, it is also easy to operate.

With just one button, you can turn a bucket full of food waste into 90% less volume.
Furthermore, you can use it as fertilizer. Here you'll see ⬇
▊Best price in Malaysia: Buy it on MYFEEL
Now on MYFEEL, you can purchase it with the best price you can find across Malaysia!

● Only RM1,680 (Pre-order limited offer)
● Limited 200 units only
● FREE! 1x Carbon Filter Refill Packs (worth RM149)
● 12 months warranty
Get one FoodCycler FC-30 now, before the promotion ends!
All pre-order products will be sent on Mid Nov 2023.
▊ Pay Less For More!
A Friendly Plan For Your Expenses
We heard your voices! MYFEEL now providing Installment Plan for those who needed.
Specific Installment Plan conditions will goes according to your payment Bank regulations.

Here are the banks we support:

▊Afraid of Online Scamming? No Worries
We'd like to meet you in person!
If you'd like to join our offline showcase, we are more than welcome to meet you!
Drop us a message via MYFEEL Asia's Social Media Account, or Customer Service line at 011-1645 0595 to make appointment. 👋

📍 7F, GMBB, Bukit Bintang, KL
📞 011-1645 0595
📱 Myfeel Asia

Make appointment now ➜